Hazelnut harvest is almost here! As the calendar turns to September, hazelnut farmers are prepping their field equipment and gearing up for what could be a monumental harvest.
Harvest traditionally starts in late September, and this is year is no exception; in fact, harvest is likely to start a few days early this year. After a great year for weather conditions–at least in the eyes of hazelnut trees–the 2020 yields are expected to be fantastic. In order to be ready for this workload, hazelnut farmers need to thoroughly prepare.
This preparation begins with fine-tuning the sweeper and the harvester. The sweeper goes through the field to blow hazelnuts into orderly piles–called windrows. Once that process is done, a sweeper comes through and vacuums up the nuts; these nuts are deposited into a tote and eventually shipped off on a semi. Both the sweeper and harvester are unique tools to the hazelnut industry and each have distinct mechanical needs. Farmers will spend hours tightening, oiling and testing each piece until they are in excellent condition. Nothing inhibits an efficient harvest like equipment breakdown!
In this month's recipe roundup, we highlight a few fall favorites that incorporate some of the freshest items in the grocery store, such as apples, squash and sweet potatoes.
Shredded Brussels Sprouts and Apple Salad with Hazelnuts
This is as easy as a salad can get. Sliced apples, chopped hazelnuts and shredded brussels sprouts pair perfectly to create a nutritious dinner side dish.
Autumn Arugula Salad with Roasted Hazelnuts and Sweet Potatoes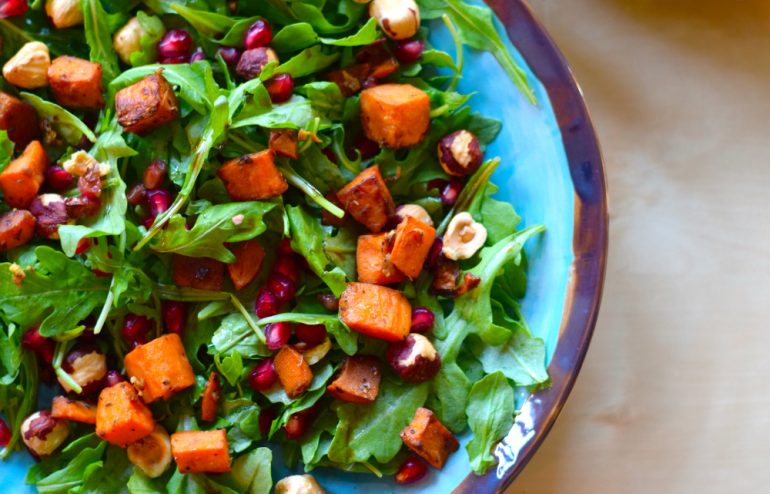 We've got the cure for those boring old salad recipes with these autumn-themed dish. Roasted hazelnuts and diced sweet potatoes bring the savory, while the homemade dressing with honey brings the sweet.
Delicata Squash with Hazelnuts
Autumn means fresh squash, and we've found a new way for you to bring them to the dinner table. This delicata squash is a simple yet savory recipe. If you're looking to kick it up a notch, we've include a maple creme fraiche recipe to top the squash and hazelnuts.