Yield: Makes 4 servings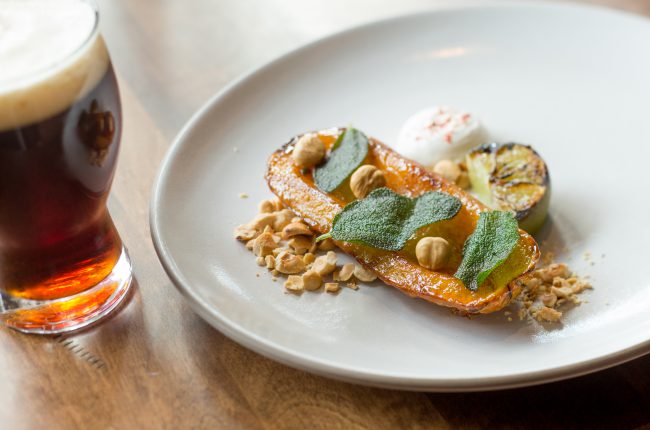 This  delicata squash with Oregon hazelnuts, sage and lime crema is exquisite alongside a glass of fine wine. It is also an exceptional side with any meat dish.
Ingredients
1/2 cup raw Oregon hazelnuts, rough chopped
2 delicata squash, halved and seeded
Salt, to taste
8 ounces unsalted butter, cubed
4 ounces maple syrup
Maple Crème Fraiche (recipe below)
Lime wedge
Directions
Preheat oven to 375 F. Place hazelnuts on a baking sheet and toast in the oven until golden brown. Remove from pan and set aside.
Place squash halves on the baking sheet, season with salt and place cubed butter evenly across the four halves. Roast for 15 minutes, or until golden brown and tender. For the last few minutes of roasting, brush the squash with maple syrup as a glaze.
To assemble the dish, place squash face up onto plate. Top with a dollop of maple crème fraiche, toasted Oregon hazelnut pieces and a squeeze of fresh lime juice. Optional: fried sage.
Maple Crème Fraiche: Mix together 2 ounces maple syrup, juice and zest from 1 lime, 1 cup crème fraiche and a pinch of salt; whisk until frothy.