Yield: Serves 4
Time: 40 Minutes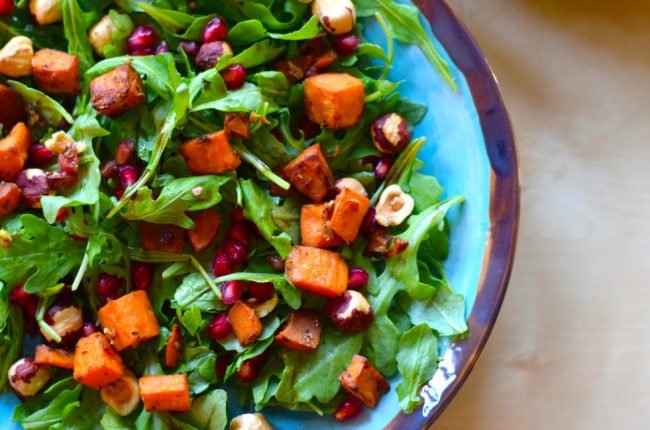 Don't have to be boring; by pairing healthy leafy greens with the right accoutrements, this salad maintains its nutritious balance while also boasting a bevy of flavors.
Ingredients
3 cups of cubed sweet potatoes
3 cloves of garlic, sliced
2 tbsp of olive oil
salt and pepper
1 tsp of dried rosemary
1 pomegranate
5oz arugula
½ cup Oregon hazelnuts
¼ balsamic vinegar
goat cheese (optional)
Directions
Preheat oven to 400°F. Place hazelnuts on a tray and roast for about 5 minutes. Set aside.
Place sweet potatoes, garlic, olive oil and salt and pepper on a large baking dish and roast at 400°F for about 30 minus until tender.
Seed pomegranate, I like to cut the fruit in half and then hit the back of the shell with a wood spatula and the seeds easily fall out.
Place arugula in a bowl and top off with balsamic vinegar, the roasted sweet potatoes, pomegranate seeds, roasted hazelnuts and goat cheese (if desired). Serve.