Oregon hazelnuts are known in the global marketplace for three distinct traits: Signature Flavor, Premium Quality, Uniquely Oregon. Hazelnuts from The Beaver State are unparalleled and in this month's blog, we are looking at the Premium Quality. From the farmers in the field to the handlers who prepare the nuts for consumption, everyone involved in the industry strives to maintain the utmost quality standards.
These quality standards begin in the field. Hazelnut growers follow a strict regimen of practices to ensure their orchards stay healthy. They take time to monitor soil, air and water quality. They keep daily watch over their trees with activities like pruning to benefit the overall health of the orchard. The more comfortable and healthy the trees, the higher volume and higher quality of the nuts.
Once the hazelnuts leave the orchard, they then move on to receiving stations and processing facilities. At these locations, the nuts are cleaned, dried and stored for maximum freshness. Handlers are constantly incorporating new technologies to further maximize their efficiency and quality standards. They sift out the lesser nuts and leave only the premium hazelnuts for retailers and consumers.
In our May recipe roundup, we highlight three recipes that are Premium Quality in their own way, yet run the spectrum of culinary variety.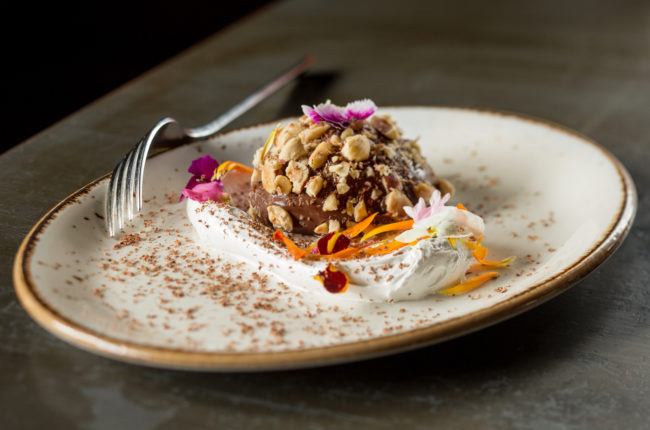 This Hazelnut-Coffee Pot De Crème with Chocolate Ganache and Hazelnut Shell Smoked Marshmallow will take your taste buds through a journey of interesting textures and unique flavors.
This classic pesto is bolstered by the savory, buttery flavor of hazelnuts. It is simple to make in a food processor and will accentuate any dish.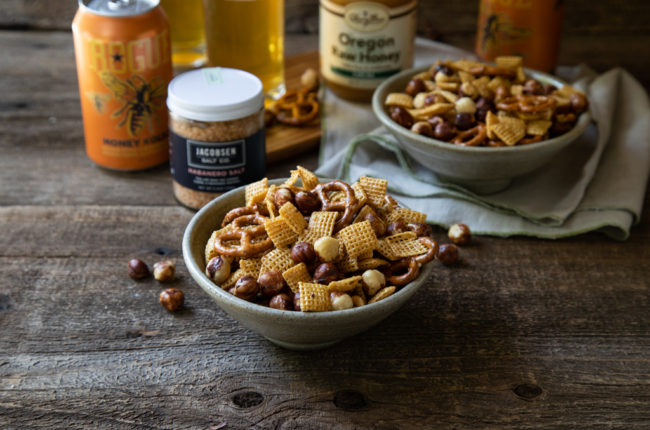 Prepare for this snack mix to disappear fast! Crunchy hazelnuts, cereal, and pretzels are coated in a sweet and spicy mix of honey and habanero salt for an addictive treat to share.