Oregon IPA Cheddar Soup with Garlic Hazelnuts
Yield: 4 servings
Time: 30 minutes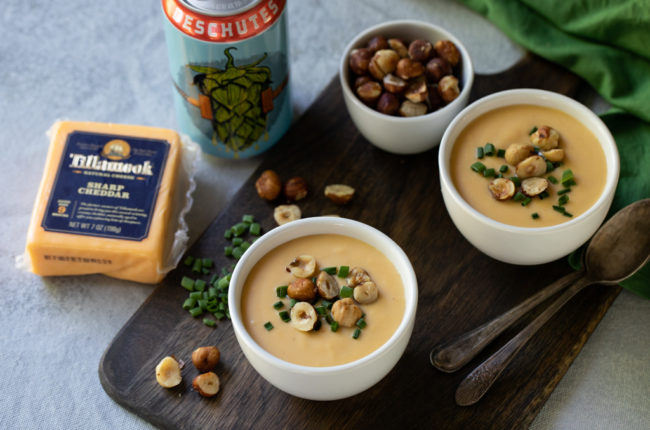 This rich soup packs a punch of hoppy flavor from an India Pale Ale. Sharp and medium cheddar cheeses complement the beer to create a tangy, creamy starter for a fun local beer dinner. It's served with a hazelnut topping that has a hit of savory garlic flavor. Be sure to buy cheese by the block and shred your own for this soup. Pre-shredded cheeses can have coatings to prevent clumping that also prevent a smooth soup.
Ingredients
1 cup roasted hazelnuts halved or roughly chopped
4 garlic cloves, grated
3 tablespoons unsalted butter
12 ounces Deschutes Fresh Squeezed IPA
1 tablespoon cornstarch
1 tablespoon water
8 ounces Tillamook Sharp Cheddar Cheese, shredded
4 ounces Tillamook Medium Cheddar Cheese, shredded
¼ teaspoon ground black pepper
1 tablespoon chopped fresh chives
Directions
Add the hazelnuts, 1 clove of garlic, and 2 teaspoons of butter to a medium skillet. Heat over medium high and toss gently to melt the butter and gently cook the garlic as it coats the nuts. Cook for about 1 minute and remove from the heat.
Melt the remaining butter in a small soup pot over medium heat and add the remaining garlic. Let cook until it just begins to sizzle, about 1 minute. Remove the pan from the heat and pour in the beer.
Return pan to medium heat. Stir together the cornstarch and water in a small dish. Pour this into the warming beer and whisk. Continue to whisk as the beer heats and the liquid thickens slightly, about 2 minutes.
Turn heat to low. Add the cheeses a handful at a time and whisk the soup well to melt the cheese. Once the cheeses are smooth. Remove soup from the heat.
Ladle into 4 small bowls and top each with garlic hazelnuts and fresh chives before serving.