Yield: 4 servings with about 1-1/4 Cups Syrup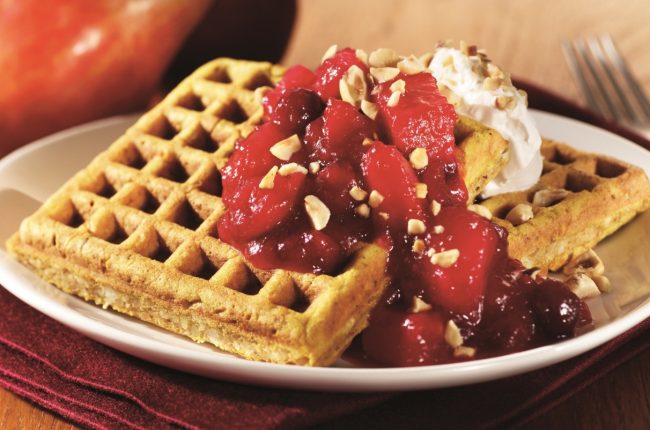 Hazelnuts for breakfast! This family-favorite will start anybody's day off right. This recipe even teaches you how to make hazelnut syrup to drizzle on the waffles. Looking for more hazelnut flavor? Substitute wheat flour with hazelnut flour in the waffle batter.
Ingredients
Hazelnut Waffles
1-1/4 cups sifted flour
2-1/2 teaspoons baking powder
1/2 teaspoon salt
1 tablespoon sugar
2 eggs, separated
1 cup milk
2 tablespoons butter or margarine, melted
3/4 cup roasted & chopped Oregon hazelnuts
Hazelnut Syrup
1/2 cup chopped Oregon hazelnuts
2 tablespoons butter or margarine
3/4 cup maple syrup
Cranberry Pear Sauce
2 cups fresh or frozen cranberries
1 cup orange juice
2/3 cup sugar
2 Pears, peeled, cored, cut into 1″ cubes
Directions
Hazelnut Waffles
Sift dry ingredients into mixing bowl. Slightly beat egg yolks and milk. Pour egg-milk mixture and melted butter into a well made in the dry ingredients; stir only until all ingredients are mixed.
Beat egg whites until stiff but still glossy; fold into batter with hazelnuts.
Pour batter on preheated waffle iron. Bake 4 to 5 minutes, or until crisp and browned.
Hazelnut Syrup
In saucepan, sauté hazelnuts in butter until lightly browned. Add syrup and heat through.
Cranberry Pear Sauce
Bring cranberries, orange juice and sugar to boil over medium high heat in medium saucepan.
Reduce heat to low boil and cook for 7 minutes.  Add pears and continue to low boil for 6 to 8 minutes until berries burst, pears are softened and mixture is reduced to 2 cups.  Remove from heat.  Add to waffles with dollop of whipped topping and extra hazelnuts.