Yield: About 7 cups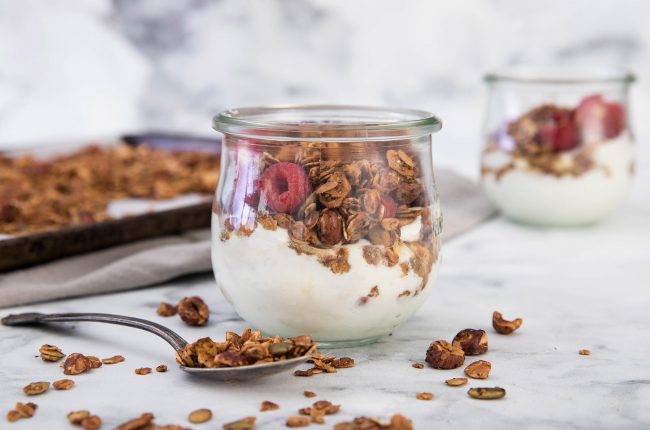 This granola recipe is an explosion of flavors and seasonings–hazelnuts, cinnamon, cardamom, pumpkin, honey, ginger and chai. Have it for a snack, have it for lunch or have it as a grab-and-go breakfast you prepared the night before; this granola can do it all.
Ingredients
3 cups rolled oats
11⁄2 cups ​Oregon hazelnuts​, roughly chopped 1 cup pumpkin seeds
Contents of 2 chai tea bags
1 teaspoon ground ginger
1⁄2 teaspoon ground cardamom
1⁄2 teaspoon ground cinnamon
1⁄2 teaspoon black pepper
1⁄2 teaspoon fine sea salt
1⁄4 teaspoon ground cloves
1⁄2 cup honey
3 tablespoons olive oil
1 teaspoon vanilla extract
Directions
Preheat oven to 325°F. Lightly oil a large baking sheet.
In a large bowl combine oats, hazelnuts, pumpkin seeds, tea, ginger, cardamom, cinnamon, pepper, salt, and cloves. Stir in honey, oil, and vanilla to combine.
On prepared baking sheet spread granola in a thin layer. Bake, stirring every 15 minutes, until well-browned and crisp, about 45 minutes.
Let granola cool completely on baking sheet, then store in an airtight container at room temperature.