Cold Brew Hazelnut Smoothie Bowl
Yield: 1 serving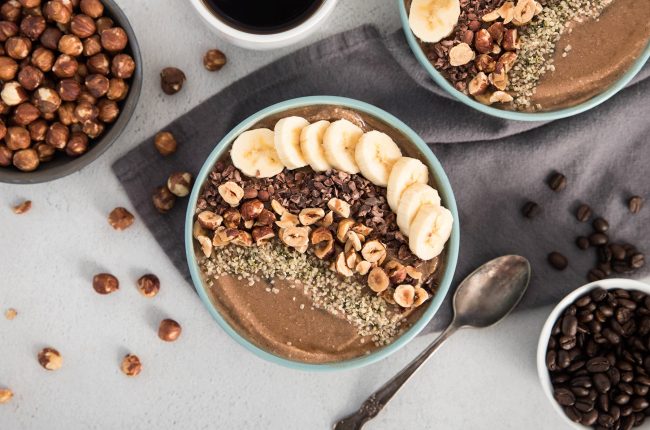 Do you love that cup of coffee first thing in the morning? We do too, so we found a way to add hazelnuts to our favorite beverage. This cold brew smoothie bowl brings so many kinds of happiness together–hazelnuts, cold brew coffee, chocolate, honey and bananas. Great for breakfast, great for any time of day.
Ingredients
1⁄2 cup ​Oregon hazelnuts
1 banana, frozen and cut into chunks
1⁄4 cup unsweetened cold brew coffee or strong brewed coffee
2 teaspoons honey or maple syrup
1 cup ice cubes, crushed
1 teaspoon instant espresso powder
1 banana, thinly sliced
1 tablespoon cocoa nibs
1 tablespoon hemp seeds
Directions
Preheat oven to 350°F.
On a medium baking sheet scatter hazelnuts. Place in the oven and bake until fragrant and the skins are blistered, 12-15 minutes. Let cool completely, then roughly chop.
In a blender combine half the hazelnuts, banana, cold brew or coffee, honey or maple syrup, ice cubes, and espresso powder. Blend until smooth and pour into a bowl.
Top with banana, cocoa nibs, hemp seeds, and remaining hazelnuts.