Yield: Serves 6-8
Time: 1 hour 30 mins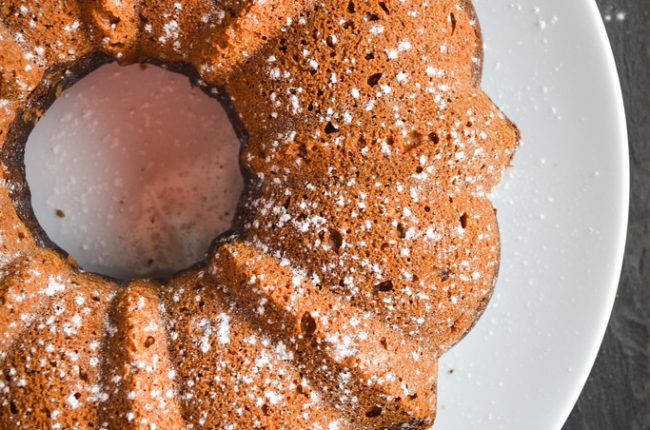 Ingredients
1-2 sweet potatoes, peeled, resulting in 1 cup mashed
3/4 cup canola oil
2 eggs
1 1/2 cup all purpose flour
3/4 cup granulated sugar
1 teaspoon baking powder
1 teaspoon baking soda
1 teaspoon cinnamon
1/4 teaspoon ground ginger
1/4 teaspoon ground cloves
1/4 teaspoon nutmeg
1/2 teaspoon salt
1/2 cup Oregon hazelnuts, finely chopped
2 ounces semi-sweet chocolate
1/2 teaspoon vanilla extract
1/4 cup half and half
Directions
Preheat oven to 350.
Bring a medium sized pot of water to boil. Add peeled sweet potato and boil until potato is soft. Drain and let cool slightly, then mash. Measure out 1 cup.
In a large bowl, beat together mashed sweet potatoes and canola oil. Add eggs, one at a time, and beat until well blended.
In a separate bowl, mix together flour, sugar, baking powder, baking soda, cinnamon, ground ginger, ground cloves, nutmeg, and salt.
Gradually add the dry ingredients to the sweet potato mixture, mixing until well combined. Finally, add chopped hazelnuts.
Using a double boiler pot (or two pots stacked together), fill the bottom pot with 2 inches of water. In the top pot, combine chocolate, vanilla extract, and half and half. Turn heat on high and bring water in bottom pot to a boil, stirring the chocolate mixture until it's fully melted. Remove from heat.
Transfer ⅓ of the sweet potato mixture to melted chocolate and mix until fully blended.
Butter the bottom of a 10 inch bundt cake pan. Pour chocolate mixture in and spread evenly. Next, pour sweet potato mixture in. Bake for 45 minutes. Test to make sure the thickest part is done. Let cool slightly before flipping.