Grower Highlight: The Bruck Family
Nestled in the among picturesque forests and valleys near the Willamette River in Wilsonville, Oregon, lies an oasis that evokes classic image of rural America. For five generations, the Bruck family has lived on and worked this land, becoming one of the longest tenured filbert/hazelnut farming families in the Pacific Northwest. It was in 1906 that the Bruck family purchased the farm from the original homesteaders. In 1912, the first filbert orchard was planted on the farm – filbert being the correct name back then. Throughout twists and turns of multiple farming endeavors, their hazelnut work remained a constant.
However, it wasn't until 1962 when a brief but destructive storm, known today as the Columbus Day Storm, would push the family into the hazelnut nursery business. With plenty of his own trees that needed to be replaced due to the 100+mph winds, others were in need as well.  This was when Earl Bruck got the idea to start propagating hazelnut trees. Though there was a bit of a struggle for the first couple years starting the new farming endeavor of a nursery, more experience and practice gained them a quality reputation for holding an abundance of knowledge surrounding the hazelnut industry.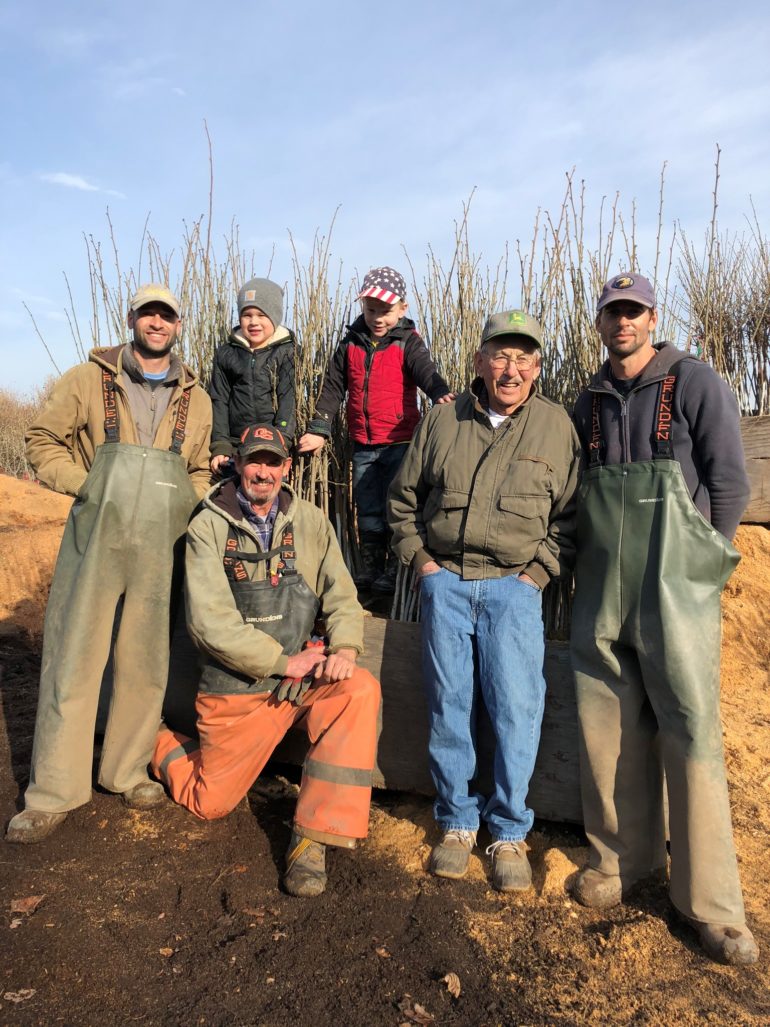 Today, the nursery operation is as integral to the family farm as the orchard production. Vernon Bruck continued his father's work and expanded both arms of the business. With more responsibility comes the demand for more help, and his kids were ready to jump in. Brothers Dylan and Jed soon joined their father in the family business, always knowing they wanted to stay close to the land they loved.
Operating a hazelnut orchard is a demanding in its own right, but managing a nursery is a whole other level of dedication. The Bruck family—spouses and children included—work side-by-side to create a sustainable business. They do nearly everything by hand, from planting saplings to grafting trees to daily maintenance and care of the freshly planted stock. It is rigorous, meticulous work—but they wouldn't have it any other way.
The entire family farm now spans 150 acres, complete with hazelnut orchards, nursery greenhouses, apple trees and chestnuts. A sixth generation of Brucks now call the century farm home, and they already show the same passion and love for the land as their forefathers.