Moonstruck Chocolate Co.: An Oregon Tradition
As a proud Oregon-based company, Moonstruck Chocolate Co. knew hazelnuts were imperative to the mission of utilizing locally sourced products; they have been crafting chocolates with Oregon's official state nut since day one. That dedication to locally sourced Pacific Northwest products has only grown in recent years, including more and more Oregon hazelnuts. The beloved Hazelnut Chai bar has been the flagship item of the new generation of hazelnut treats.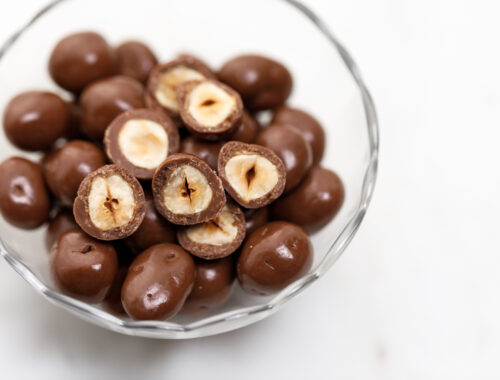 Currently, hazelnuts take a starring role in the following products:
Milk Chocolate Caramelized Hazelnut Drops– Perfect for snacking, these are made in small batches of roasted hazelnuts perfectly caramelized in copper kettles and coated in creamy layers of milk chocolate
Dark Chocolate Hazelnut Chai Bar– Combining dark chocolate with Moonstruck Chocolate Co. proprietary spicy chai blend, they added hazelnuts for the perfect complement of crunch
Oregon Hazelnut Truffle– A part of the permanent collection of classic truffles, it combines hazelnut praline with dark chocolate and topped with a copper kettle-cooked hazelnut
According to the chocolate pros at Moonstruck Chocolate Co., "Chocolate and hazelnuts do a great job at balancing one another. At the core of a hazelnut, they have a slight bitterness to them, so when paired with a sweet and creamy milk chocolate it helps balance and cut the sweetness rather than adding to it. You can highlight the taste of a hazelnut by adding spices, roasting, or even candying them. It makes it a very versatile nut to combine with milk, dark or even white chocolate."
Moonstruck Chocolate Co. products are available at their three stores across the Portland metro, in their online store or at grocery stores throughout Oregon.