Hazelnut Holiday Gift Guide
Hazelnuts are a traditional favorite at many a holiday table–whether that's a bowl of freshly roasted hazelnut kernels or diced hazelnuts on a green salad. To help you find the tastiest treats for this holiday season, we have put together our 2022 Hazelnut Holiday Gift Guide. Here you can find holiday tins, decadent chocolates and other hazelnut goodies to share with friends and family.
Ash Creek Hazelnuts: This farmer-owned and operated company uses their own hazelnuts to create hazelnut snack packs. Try the variety pack to get bags of the roasted, dark chocolate and milk chocolate hazelnuts.
Columbia Empire Farms: The flavors of the Pacific Northwest are always at the forefront for Columbia Empire Farms. From hazelnuts to salmon to marionberries, their gift boxes are quintessentially Oregonian. Treat your friends and family with the Hazelnut Sampler or the Hazelnuts n' More gift boxes.
Freddy Guys Hazelnuts: Using hazelnuts from their own Monmouth, Oregon orchard, Freddy Guys Hazelnuts are as direct from farm-to-table as it gets. Their collection of gift boxes include an assortment of treats ranging from roasted hazelnuts to chocoloate hazelnuts, and hazelnut meal to hazelnut oil.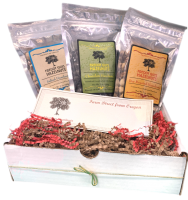 Hazelnut Hill: Show some love! Or, if you're buying for work, shout out your appreciation! This sampler is 1.5 pounds of holiday happiness–salty, crunchy, sweet and delicious. Filled with dark chocolate-covered hazelnuts, peppermint bark, salted hazelnuts and hazelnut toffee (with dark chocolate), this sampler is also the perfect way to sample everything Hazelnut Hill has to offer.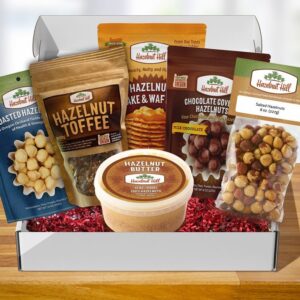 Holm Made Toffee: The fine folks over at Hold Made Toffee have holiday-themed flavors of their signature hazelnut toffee and lil' bits, including candy cane, gingerbread, bourbon brown sugar and marionberry. You'll want to try them all!
Ken and June's Hazelnuts: Since 1957, Ken and June's has been offering a vibrant arrays of holiday treats. Their festive tins and variety packs offer flavors ranging from butter toffee to marionberry to mint chocolate.
Laurel Foods: One of the most robust product lineups comes from Laurel Foods. Try their signature gift package, shipped in an engraved pine box, or give the gift of delicious hazelnut spreads with their Hazelnut Chocolate spread, Hazelnut Macadamia spread and Hazelnut Chocolate spread.
Lillie Belle Farms: These Oregon-based chocolatiers are featuring their beloved "Oregon Hazelnut Bar" and "The Most Awesome Chocolate Bar EVER." Give your favorite people a dozen or two of the Lillie Belle ganaches and bon-bons.
Oregon Orchard: Oregon Orchard creates some of the most unique dipped hazelnut flavors around, like peppermint, eggnog and pumpkin spice. Taste them all in a variety pack!
Pacific Hazelnut Company: A pioneer of candy-coated hazelnuts, Pacific Hazelnut Company not only offers traditional favorites like milk and dark chocolate, but also specialty flavors like marionberry, mint and butterscotch dipped hazelnuts.
Premium Growers: With seven flavors in one tin, there's something for everybody in this Jumbo Holiday Sampler from Premium Growers. It features milk chocolate, dark chocolate, sweet and savory, sweet cinnamon, naturally roasted, lightly salted and spicy barbeque hazelnuts.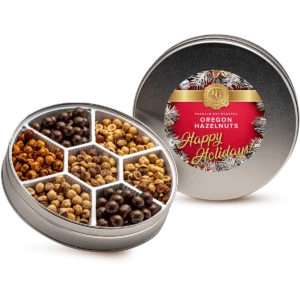 Rogue Creamery: The Smoky Blue Cheese from Rogue Creamery is cold-smoked for many hours over Oregon hazelnut shells. This process infuses the cheese with unique aromas of barrel-aged vanilla, bread pudding, and candied bacon. You'll taste spicy-sweet flavors of honey, apple, and nectarine, plus a mild "blue" finish.