Hazelnut Hero: Wicked Harvest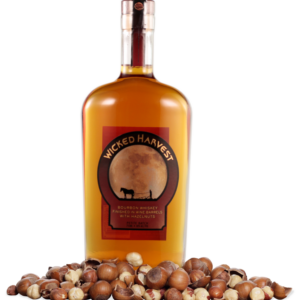 Hazelnuts—long known for their exceptional flavor profiles in an array of pairings—are becoming an increasingly trendy ingredient in the brewery and distillery worlds. The rich, robust taste of hazelnuts are brought to the forefront in these distinctive spirits. Breweries like Wolves and People and Rogue have crafted flagship beers with Oregon hazelnuts. Now, the forward-thinking distillers at Wicked Harvest have created a bourbon whiskey that treats the palette with the sweet, earthy infusion of hazelnuts.
Wicked Harvest was founded by Jim and Gloria Zorn, tree nut farmers in California. The company began with a pistachio bourbon, which was aged in merlot wine barrels. This innovation put them on the map, and they began experimenting with other nuts. Gloria is originally from Oregon and wanted to incorporate Oregon's state nut into her favorite spirit. The masterstroke was aging the bourbon and hazelnuts together in pinot noir barrels–the nuts and barrels both coming from Oregon's Willamette Valley. This region is not only home to 99% of America's hazelnut crop, but also some of the finest pinot noir wineries in the world.
Wicked Harvest defines the hazelnut bourbon whiskey: "From its approachable first sip to its smooth-yet-pronounced finish, petite-batch Wicked Harvest Hazelnut is ready for you to enjoy your way, whether neat, straight up, or as part of your favorite bourbon cocktail."
In addition to the hazelnut and pistachio bourbons, they have since added pecan bourbon whiskey to the menu. Wicked Harvest spirits are available throughout Oregon and California, as well at select locations in Kentucky. Pick up a bottle and have a toast to hazelnuts!