What Are We Thankful For?
The orchards are growing quiet. The tractors, carts and sweepers have made their passes through the 80,000 acres of hazelnuts across Oregon. October was peak harvest season for most of America's hazelnut growers, and they are now putting the finishing touches on the season; loading and shipping carts to the receiving stations, performing orchard maintenance and preparing them for winter.
Growers were largely optimistic about the 2019 harvest. A relatively dry September and October—at least by Oregon standards—meant that farmers could work more long days without stopping and harvest cleaner hazelnuts. The processing facilities are now running at full power to collect and process millions of pounds of hazelnuts. Once all nuts have been delivered to the processors, we will have a final estimate on the 2019 yield.
November is a month for giving thanks, and we are very thankful for the growth we have seen in the industry in recent years. Many smart and responsible growers have joined the ranks of our established, multi-generation growers. We are thankful to have so many great people working together to drive the hazelnut industry into new frontiers. As we give thanks this month, we are sharing some of the hazelnut dishes that will be adorning our Thanksgiving tables.
It's like making your very own candy bar; these sweet treats make an excellent snack for all your holiday guests. You can serve them as large bars or break them into brittle-sized pieces your guests can eat by the handful. For best results, use whole and coarsely chopped hazelnuts.
This inventive Hazelnut Grits recipe comes to us from our friends at Farm Spirit in Portland. Farm Spirit has provided step-by-step instructions so anyone can make these grits at home! All you need are hazelnuts, onions, a few everyday kitchen spices and a food processor, and you are on your way to creating this clever twist on grits.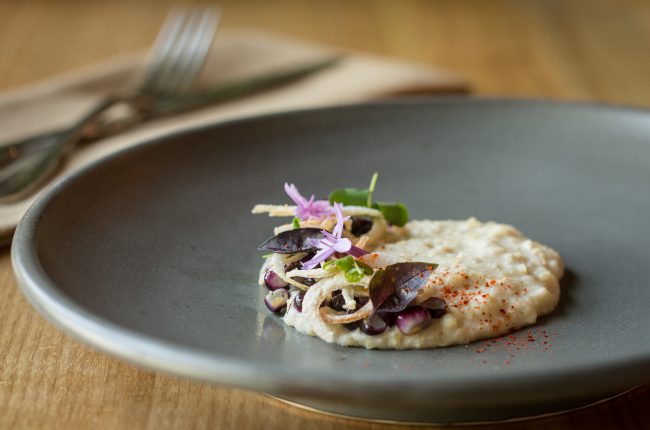 Chocolate Hazelnut Flourless Cake
There is no better way to bring hazelnuts to the Thanksgiving dessert table than in this rich chocolate cake. Our recipe includes instructions for the cake and ice cream, as well as Frangelico Chantilly!