Put a Nutty Spin on Nutrition Month
March is the Academy of Nutrition and Dietetics National Nutrition Month and to celebrate, we are eating more hazelnuts! Sure, Oregon hazelnuts are known for their distinctive flavor and premium quality, but there is so much more to this humble nut. Read on to learn why you should be adding more NUTritious hazelnuts to your diet.
Vitamin E: With 20% of the daily recommended value per one ounce serving, hazelnuts are an excellent source of the antioxidant vitamin E.
Proanthocyanidin: Hazelnuts have the highest proanthocyanidin content of any tree nut. These compounds are known for contributing astringent flavor to foods and may help reduce the risk of blood clotting and urinary tract infections.
Folate: Additionally, hazelnuts rank the highest in folate among tree nuts. One serving* contains eight percent of your Daily Recommended Intake (DRI). Healthful diets with adequate folate have been linked to decreased risk of neural tube birth defects and may help to reduce the risk of cardiovascular disease and depression.
Manganese: Manganese is necessary for bone formation, and lucky for you, a single serving of hazelnuts supplies more than 90% of the DRI.
Copper: A one-ounce serving of hazelnuts contains 25% of the DRI of copper, which is needed for iron absorption.
Fiber: An ounce of raw hazelnuts has 2.7 grams of dietary fiber. Dietary fiber is a cholesterol-lowering nutrient and may prevent constipation because of its laxative effect, according to the 2010 Dietary Guidelines from the U.S. Department of Health and Human Services. Healthy adults on a 2,000-calorie diet should aim for at least 28 grams of dietary fiber.
Not only perfect for snacking, hazelnuts can add both taste and nutrition to your meals for #NationalNutritionMonth. Need some cooking inspiration? These recipes will become your new go-to.
*A serving of hazelnuts is one ounce, or about 21 hazelnuts.
Shredded Brussels Sprouts and Apple Salad with Toasted Hazelnuts
You can't go wrong with a bright salad, especially when Oregon hazelnuts are involved. Crunchy, toasted hazelnuts add a finishing touch of flavor and extra dietary fiber.
Green Beans with Hazelnuts and Thyme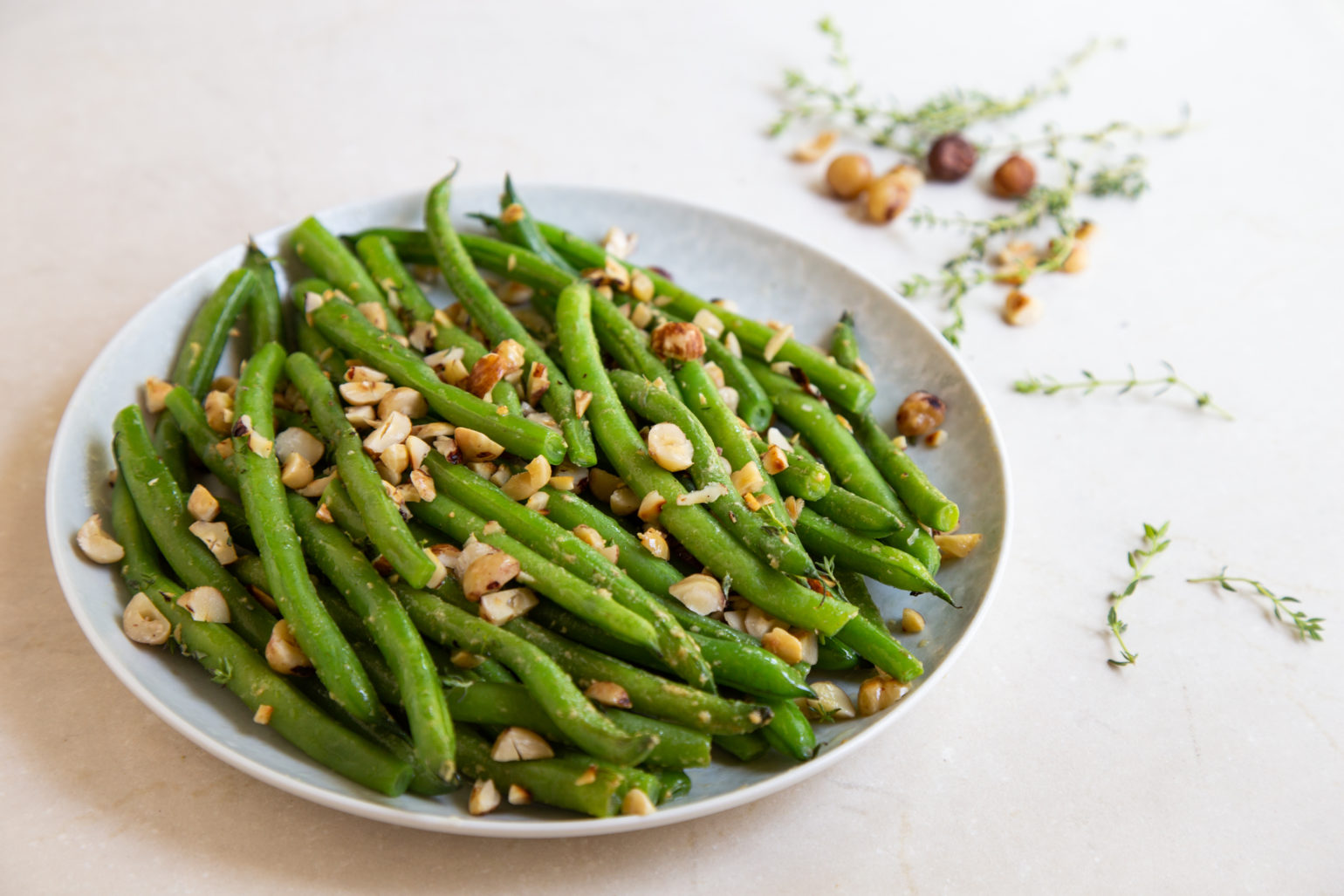 No-fuss recipes with fresh ingredients are the best. This recipe may be simple, but the combination of crunchy green beans and rich hazelnuts make this dish irresistible. Serve alongside your favorite protein for a balanced dinner done right.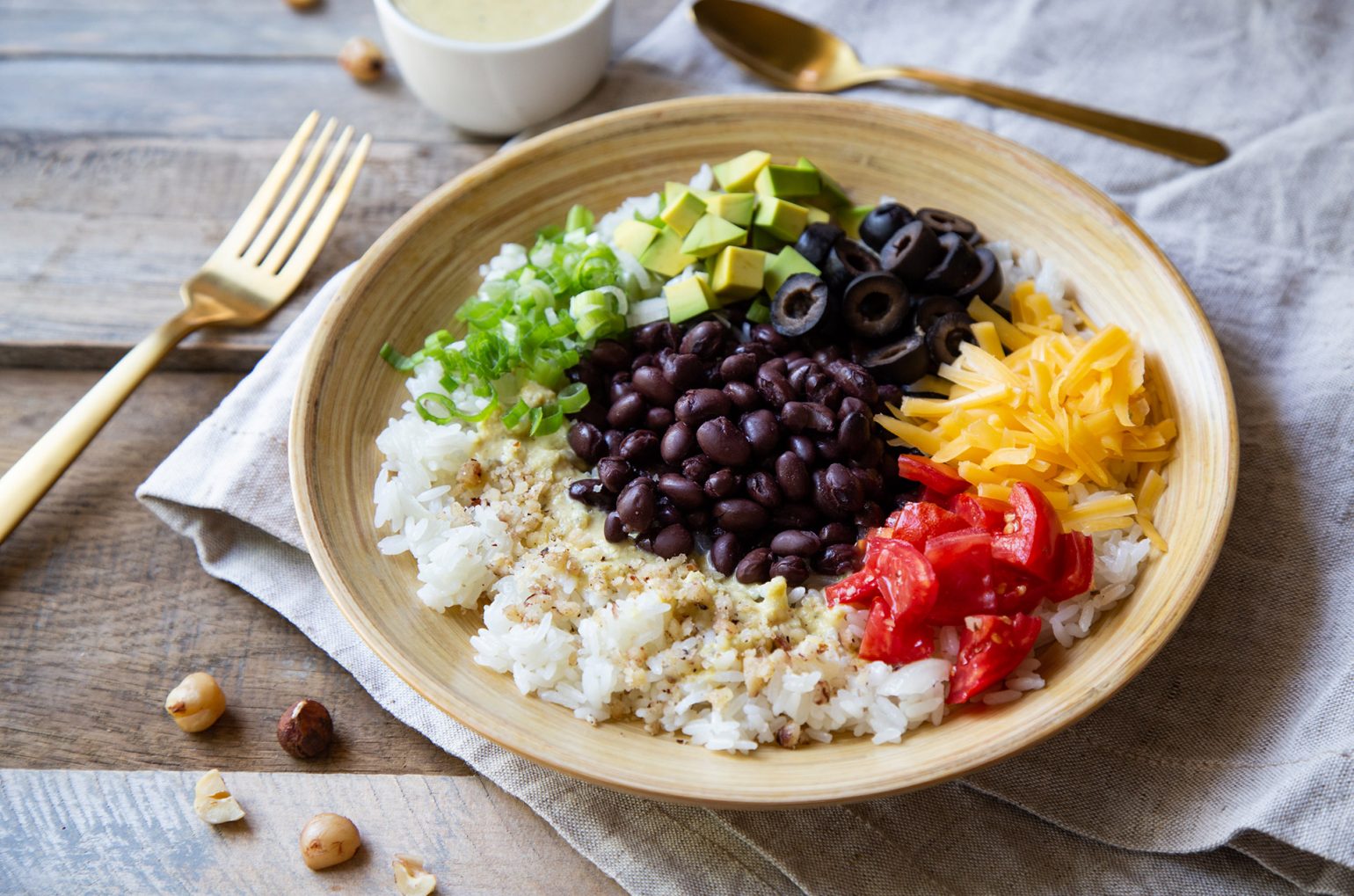 Pack on the veggies with these fully customizable bowls. We are fans of avocados and tomatoes, but add whatever toppings your heart desires. Then, douse the whole shabang with homemade hazelnut heavenly Sauce.