February is all about the heart. Of course, we all know it is Valentine's Day. We have included a few of our recipes to impress your sweetheart during this most romantic time of year.
February is also American Heart Month – a time when we are all reminded to live a lifestyle that treats our heart a little better. A key component of this healthy lifestyle is diet, and hazelnuts can play a vital role in your heart health. Benefits of hazelnuts include:
Hazelnuts contain 8% of RDV of folate per serving, highest among all tree nuts; healthful diets with adequate folate may help to reduce the risk of cardiovascular disease and depression

A 1.5-ounce serving of hazelnuts contains 23 grams of unsaturated fat and 2 grams of saturated fat, zero trans fats and no cholesterol

Scientific evidence suggests but does not prove that eating 1.5 ounces per day of most nuts such as hazelnuts as part of a diet low in saturated fat and cholesterol may reduce the risk of heart disease
Be sure to take care of your heart and your sweetheart this February!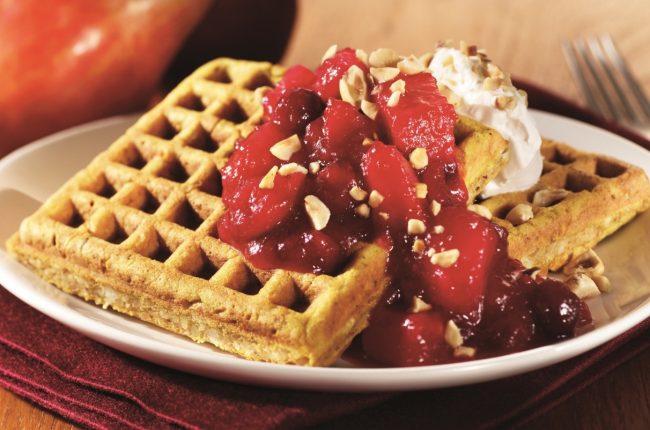 Are you making breakfast in bed for your valentine? Try these traditional waffles with a sweet addition of hazelnut syrup and cranberry pear sauce!
These brownies are made rich and decadent with the addition of milk chocolate and finely ground coffee beans. Hazelnuts add a pleasant roasted, nutty flavor with a crunchy bite. The simple frosting adds a creamy note to bring the dessert together for an unforgettable treat!
Courtesy of Tanner Creek Tavern in Portland, this recipe will impress any valentine date. The recipe is surprisingly simple with a few ingredients. Simply roast the squash in the oven with the salt, butter and maple syrup. Top with chopped hazelnuts and homemade Maple Crème Fraiche and voila, your dish is ready!